Single-Page Property Site Walkthrough
Organized Listing Pages
Your Shoot2Sell Dashboard offers a variety of features to help showcase your listing. One of those great features includes a single-page property site that gathers your listing's branded and nonbranded content, organizing it all into one page.
The sections on your property page will include photos, videos, 360° immersive media, home information and a contact form. Here's a quick walkthrough of what your single-page property site will look like.
24 hours after your Shoot2Sell appointment, you will receive a link to your Personalized Shoot2Sell Dashboard. Once you have logged in, you will see all your Shoot2Sell content organized by listing. If you have only used Shoot2Sell to promote one of your properties, you will only have one listing property page to choose from.
Home Listing Info Icons
Included on your listing page will be a section for you to describe your listing for viewers to get a better understanding of your property. This information can range from the number of bedrooms and bathrooms to the property's square footage and when it was built. 
Paired with your home information will be a map that pinpoints exactly where your listing is located.
Digital Assets
Your digital assets will be separated by photos, videos and immersive content.
Under the photo tab, you will have the ability to reorder your photos and even hide the ones you may want to leave out of your gallery. Next will be your video section which will include a video that combines all your video content into a single digital asset. This video will include any interior, exterior or aerial footage gathered for your listing by your Shoot2Sell videographer.
Following your single video asset will be any immersive media you have collected, including both 2D and 3D Floorplans. 
Lead Collection
At the bottom of your listing page site will be a contact form. Viewers who are interested in hearing more about your listing will have the opportunity to leave their name, contact info and a message. Completed forms will be emailed directly to you with the automatic subject line being the name of your listing, allowing you to identify these messages in your inbox. 
If you have a Facebook account you use to collect leads on listings, you can link it to your dashboard page which offers interested viewers the opportunity to message you directly via Facebook Messenger.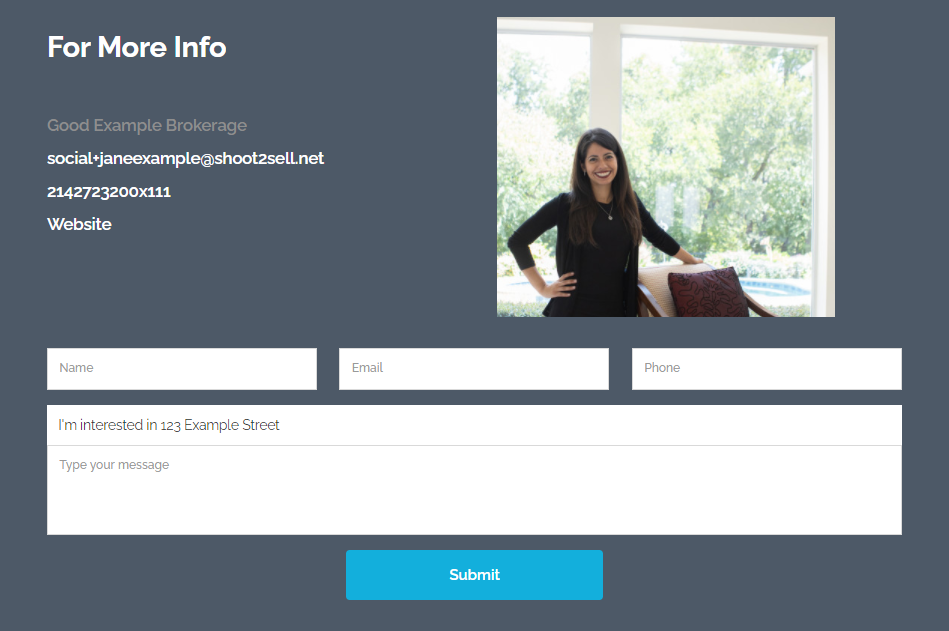 Your listing page site will not only be accessible to you but to all viewers interested in your listing. No more listing link after link on your MLS listing. Use the single link to your Shoot2Sell single page property site to direct potential buyers to all your listing's digital assets. Everything you need to promote your listing and collect leads will finally be stored in one place.