Understanding Your Insights - Shoot2Sell Dashboards
Edit, Share and Analyze
The newly designed Shoot2Sell Dashboards include a wide variety of features to help you manage your content and optimize your digital marketing efforts. One of the features included with each of your Single-Page Property sites is the page analytics tool.
The analytics tool will allow you to measure the success of your digital marketing strategies and gain insight into how well you are generating interest for each of your listings. The graphs will tell you how many visitors you are generating to your single-page property site page, where they are coming from and what they are doing on your page. 
We've broken down each of the insight graphs and tables that are provided on your analytics page to help you understand how you can use them to optimize your digital real estate marketing strategies.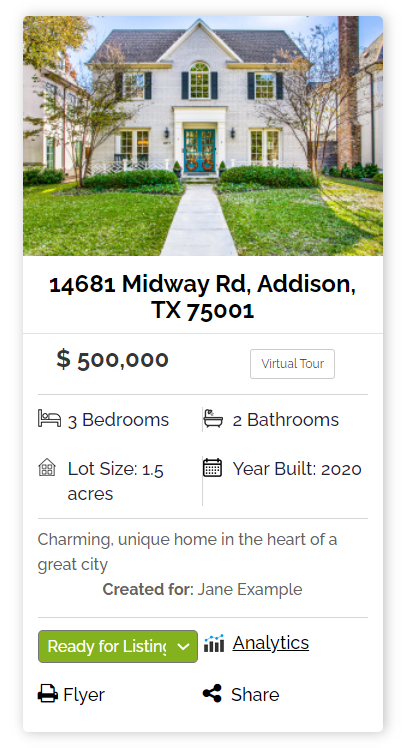 Visits Over Time

The first graph you will find on your single page property site's analytics page will be titled Visits Over Time. The blue line, labeled visits, shows you the number of visits you received on your listing property site page on the corresponding day while the orange line, labeled Avg. Visit Duration (in seconds), will you show the average amount of time visitors are spending on your property site page. Move your cursor over different points on the graph to view the specific values for each day. 
Your visits over time graph will be a great tool for you to measure how interested your viewers are when they come to your single-page property site. For instance, if you receive have a high amount of visitors to your page in a day but your average visitor duration is 3 seconds, you may want to reorganize your content in a way that holds the interest of your visitors for longer. On the other hand, if you see that you have a low number of visitors but the average visitor duration for that day is upwards of 130 seconds, you can conclude that visitors are interested in your content but you need to do more work on generating new visitors to your property site page.
Referrer

Your Referrer graph will next show you specifics on where your visitors are being referred from. If you hover your mouse over a portion of the pie graph, you can see the exact number of visitors referred from a site or application and the percentage of overall visitors they make up.
This graph will be great for helping you decide where to focus your marketing efforts and measure how successful your past efforts have been. For example, if you find that many of your visitors are coming from your Instagram page and none are coming from Twitter, it may be more beneficial for you to work on expanding your reach on Instagram since you know that's where your audience is. 
Social Networks

While your Referral chart does show you a breakdown of your visitors from both social media and websites, your Social Network table will focus on your visitors generated specifically from your social media applications.
The first column will show each of the platforms your visitors are being referred from. The next column will show the number of visits generated from their respective platforms. Note that if a visitor comes to your site once, leaves and then returns back to the page after 30 minutes, they will be recorded as a new visitor. If a visitor takes an action on your page, it will be recorded under the actions column while the average number of visitor actions will be recorded under the Actions Per Visit column. 
The Average Time on the Website column will record the average time a visitor from their respective platform spends on your single page property site. The last value that is recorded on your social networks table will be the bounce rate. The bounce rate is the percentage of visitors that left your property site page directly after entering. 
Visits by Visit Number

Your last table, titled Visits by Visit Number, will separate the actions of your visitors by the number of times they visited your site. This table will show you how often people are coming back to your page and what they are doing when they come back. The conversion rate will then let you know on which visit the most people are converting. 
Remember you want visitors to spend longer on your single page property site, have a low bounce rate and a high conversion rate.
Get all your questions answered about your NEW Personalized Dashboard at our Dashboard FAQ page.
More from our Blog: