All About Real Estate Drones
Drones for Aerial Shots
The way you market your listings is always changing to keep up with new photography and videography tools that become available and new marketing trends are introduced to the market. One of the newest trends to emerge in the real estate market is the use of drones for aerial video footage and unique shots of your listings. 
Aerial footage has a variety of uses when it comes to helping you market any of your listings. The images it captures are high quality and naturally versatile as they can be still shots or stabilized videos with sweeping or panning movements. This versatility also offers you the chance to do things that just aren't possible with a mounted camera like capture images from overhead and 360-degree angles.
There are now also editing features that are available exclusively for aerial photography like carefully crafted Aerial videos and ColorPop aerials that highlight your listing within the expanse of land area the drones are able to capture in a single image.
The aerial footage that drones capture can be used to market all types of listings. Whether it is residential, commercial or an apartment listing, there are incredible benefits to using drones to capture the extent of what your listing has to offer. 
Benefits of Aerial Footage
Aerial footage shot from drones allows you to capture your listings from unique perspectives. It is unlikely that anyone would naturally be able to view your listing from 60 ft up in the air but that may be the best angle to showcase the size and layout of your property.
Aerial footage can also elevate classic shots to better depict the appeal of your listing. For example, curb appeal shots are great for a listing but the view from standing on the curb may not always do your listing justice. With drones, you're not limited to just that one shot.
Since drones are able to shoot such a large range of land, your aerial footage can also help depict your property's proximity to local amenities and infrastructures like highways and powerlines. If your property also includes wide areas of open land, aerial footage can help display just how wide that area is and how close it is to other homes and businesses.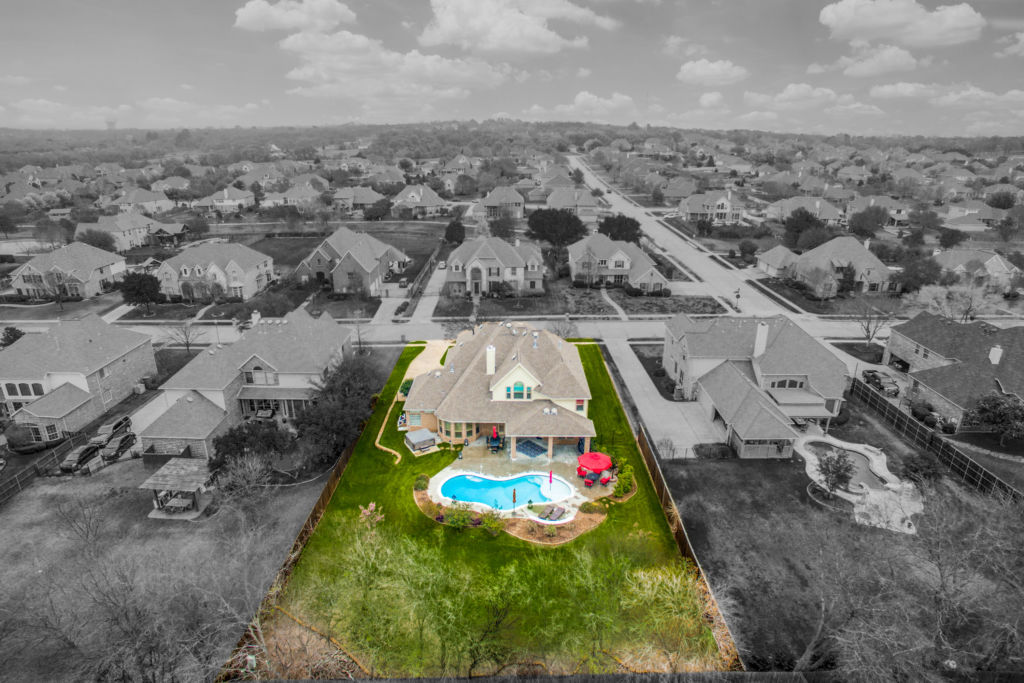 How to Use Your Aerial Photos
The versatility of the images capture by drones for real estate is likely one of the most commendable benefits of aerial photography. 
The unique footage and images can be used to market your property on social media and support your interior shots on your digital listing page. Aerial footage can also be combined with the still images captured by your photographer on the ground to create a seamless, unique and elevated digital asset that can properly showcase your listing. 
Cinematic HD videos and Panoramic Spotlights are two unique digital assets that Shoot2Sell offers that will allow you to do just that by combining all the best shots taken both from the drone and from the ground.